Fujiya is izakaya with serving grilled pork tripe on a stick
Japanese like MOTSU-YAKI. MOTSU-YAKI is pork tripe.
I will introduce izakaya where you can eat delicious pork trip. This is Fujiya.
Fujiya is near Hamamatsucho station, which is visible in Tokyo Tower.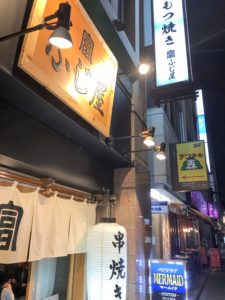 If you can't make up your mind which one to choose, select red letters in menu.
Because red letters are Fujiya's recommended dishes.
There maybe an English menu at Fujiya. But I will translate it.
| | |
| --- | --- |
| 串 ( kushi ) | on a stick |
| れば ( reba ) | grilled pork liver on a stick |
| こめかみ ( komekami ) | grilled pork temple on a stick |
| たん ( tan ) | grilled pork tongue on a stick |
| はつ ( hatsu ) | grilled pork heart on a stick |
| がつ ( gatsu ) | grilled pork stomach on a stick |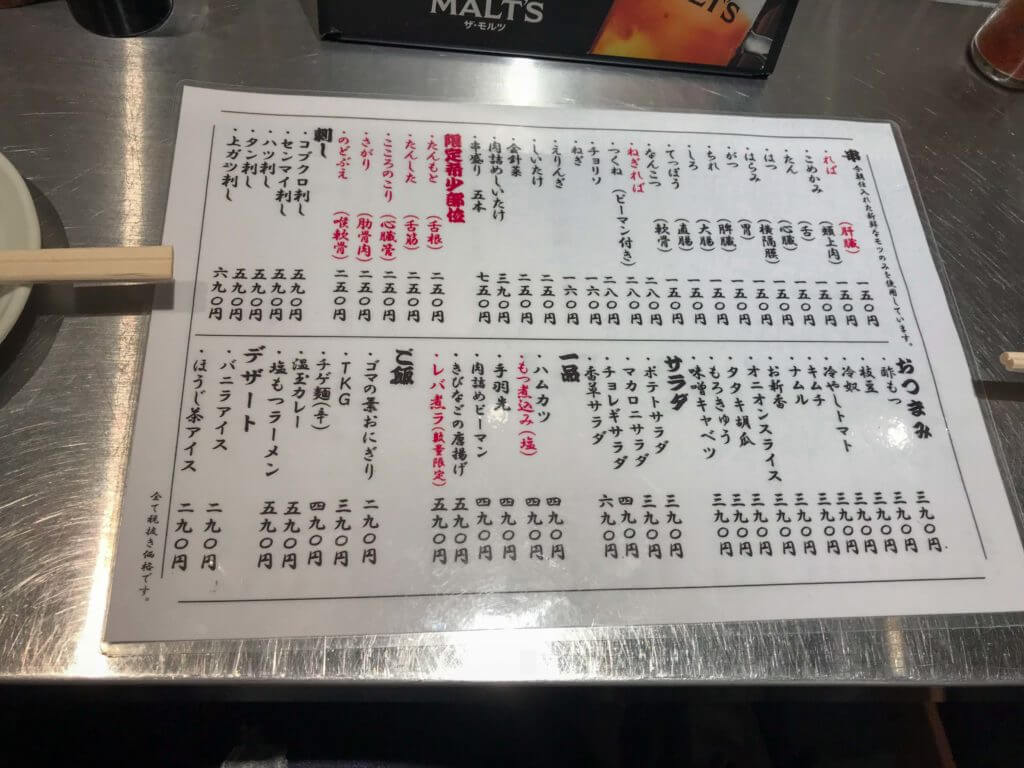 And next drink menu. I chose beer. But it's a bit pricey…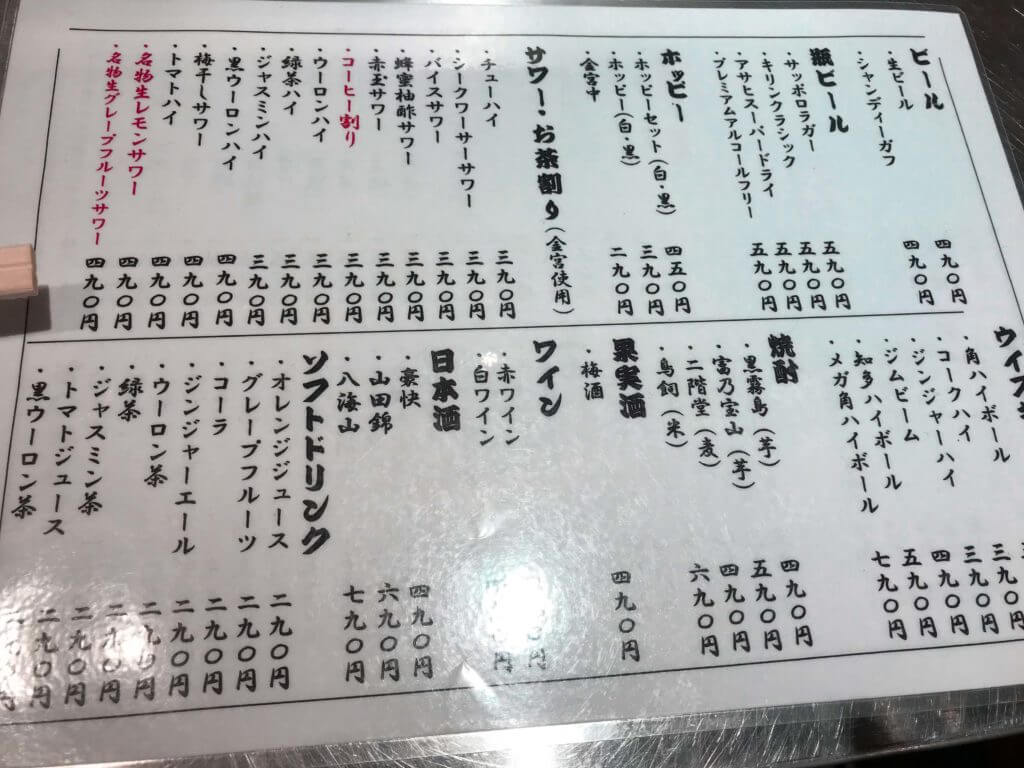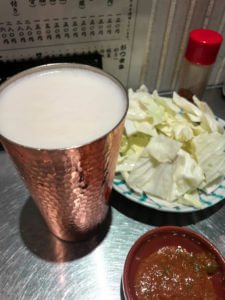 Recommended
I will introduce the dishes of Fujiya.
It's Japanese tripe stew! (salted)
It's salty taste and NO the strong smell of beef .
I love it!
When I first eat, I ordered again!
This looks like thick stew, but it's just thin!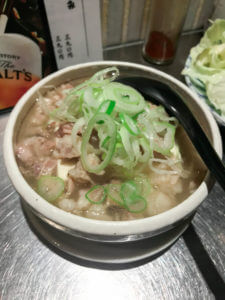 A lot of green onions on chunky fresh liver.
Green onions and leek are the same thing.
And next one,
If you like a green onions, don't miss you it.
This is GOOD!
We call day zero liver.
The meaning of day zero is very flesh.
And Japanese heavy drinkers love YAKUMI.
The meaning of YAKUMI is green onions, ginger,Japanese ginger (MYOGA),Japanese horseradish and kind of.
So, the combination of liver and green onions is very delicious!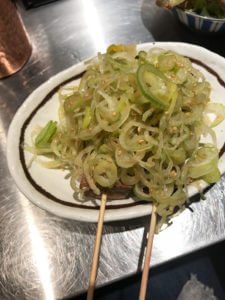 Crisp texture of green onions and tender texture of liver and sesame flavor, these are combined VERY DELICIOUS!!!!
Because the lever is very fresh, so there is NO gamy at all!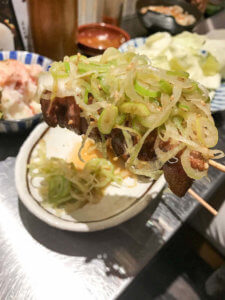 Normally delicious Potato salad
I ordered a potato salad.
I thought it was a regular potato salad.
It is not! Potato salad with ham and crab, and the baked tarako paste is on top.
It's a perfect palate cleanser.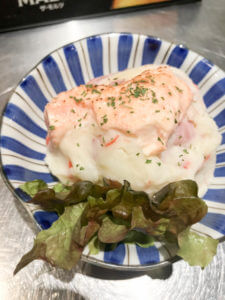 Naturally delicious pork trip
I ordered Sagari and Harami.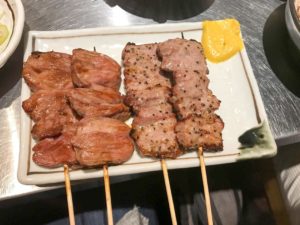 Both lean meet.
The shop manager said,the meet is stocked this morning and will use it all in the day.
Sagari is also fresh in the morning of the day.
It's was recommended to eat with soy sauce.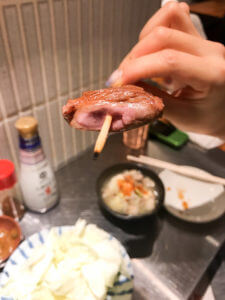 I usually eat meat with solt, but I ate it with soy sauce as recommended by the shop manager.
NICE!!! Soy sauce is MUCH! It is not greasy and soft.
When it is easy to enter without reservation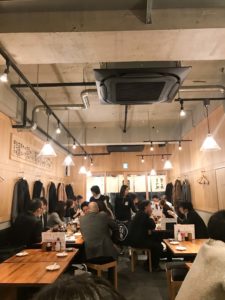 An hour has passed since I went to the shop at 8:30.
A vacant table began to appear in the shop witch was full.
If you go to the shop without a reservation, would be good to go at 5:00, 7:00, 9:00 o'clock.
I wanted to get some more meat, so I ordered chorizo and beef tongue.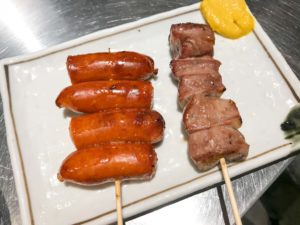 The Chorizo is unexpectedly spicy!
I like spicy stuff. But this chorizo is so hard.
Recommended drink
Shochu with coffee is a light taste.
We chose Nikaido water split and coffee split to pour the hotness of chorizo.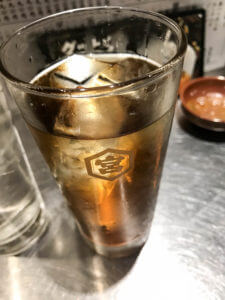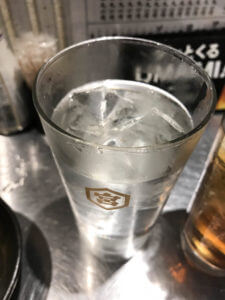 Nikaido water split has a feeling of sipple as expected, but Kinmiya's coffee split is excellent!
The smell of coffee makes the weight of meat smooth.
I drank coffee with awamori in Okinawa, but lighter than that!
Check!
I am satisfied with my stomach, so I will pay…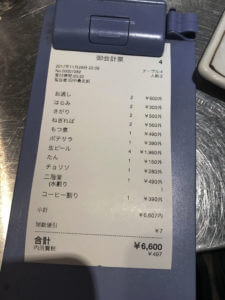 Oh! Two people eat and drinking, it is about 6000 yen! cheap!
Price and taste, customer service is very satisfactory!
ヒガシの評価
Store evaluation
Comprehensive evaluation
(4.0)
Fujiya has the best food, after all! The hot pot, Negireba, and other menu items you want to eat!
It is a price. We can be satisfied with quantity, taste for 3,000 yen alone!
I am a shop with a high repeat rate. Please come by all means!
Store location
Fujiya ( ふじ屋 )
Hamamatsucho 1-chome 27-8, Minato-ku, Tokyo 105-0013 Hashidate Building 1F
03-6432-4867